2008 – the year of the Aussie at TAS Racing
WE DIDN'T KNOW MUCH ABOUT CAM BEFORE SIGNING HIM FOR 2008, ALTHOUGH HIS PACE IN IRISH NATIONAL ROAD RACE EVENTS DURING 2006 AND 2007 AND THAT TT PODIUM IN 2006, CLEARLY DISPLAYED HIS TALENT AND IT'S FAIR TO SAY, HE WAS ALREADY ON OUR RADAR.
Personally I have always had a huge respect for Antipodean talent. Not only do they produce some extremely gifted riders but I also believe, it takes a very special desire to move 10,000 miles from home to chase your dreams – and this desire was clear with Cameron the first time we met him.
Ironically, it became clear that Cam was also keen to join TAS Racing and after some initial conversation mid-way through the previous season, it was a very easy negotiation and we put an agreement in place for 2008.  I have always felt the best partnerships are the ones that fall into place easily, with both parties wanting to work together for the right reasons and this was certainly the case with Cameron and TAS Racing for 2008.
In a further display of desire, Cam arrived in Northern Ireland during winter to begin his preparation for an all-out assault on the TT. Although Cam was still relatively inexperienced at the TT, looking back I don't believe there was any doubt from either side that he would at least challenge for success that year on the Island. That joint belief, together with faultless preparation was I believe, the key to his success that June.
TAS Racing already had significant TT experience and the GSX-R1000 was clearly a great package however, Cameron's undoubted talent, desire and dedication were huge factors in overcoming the slight lack of experience. We must remember, it would only be his third time racing at the TT. 
Everything was put in place to help Cameron settle in and we quickly established a close relationship both socially and professionally, which hopefully helped build Cam's confidence in the team around him. We also introduced a new member to our team who had worked with Cameron previously, which was also a significant factor in how easily we established that great relationship.
Preparation included an early spring trip to the Isle of Man with many early morning laps completed on a Relentless liveried Suzuki GSX-R600 road bike. Cameron also had a strong desire to compete in BSB and although a selection of early season official tests and races were planned in preparation for the TT, he once again confirmed his ability with a debut podium [3rd] on the Relentless Suzuki at Thruxton in the Superstock class. 
The NW200 was final confirmation of what we already believed was possible when Cam was unlucky not to pick up a debut win. He led the Superstock race at various points and ironically tangled with team-mate Bruce Anstey on the final entry to the infamous Juniper chicane but still managed to finish on the podium. A Superbike race win also looked like a realistic possibility, before a small stone jammed the throttle bodies ending his race at Metropole corner.
As everyone knows TT results are often significantly affected by luck, either on the part of your own rider or the opposition, and we perhaps received a little of both during the 2008 Isle of Man TT. 
Either way the week started on the best possible note with a debut victory in the opening Superbike race followed by more success in Monday's Superstock event. Despite the Senior race on the final Friday at the TT being labelled by the media as the blue riband event, I have come to understand that a win in either Superbike race at the TT is an experience to cherish, and that first race victory for Cam is one of our most cherished successes.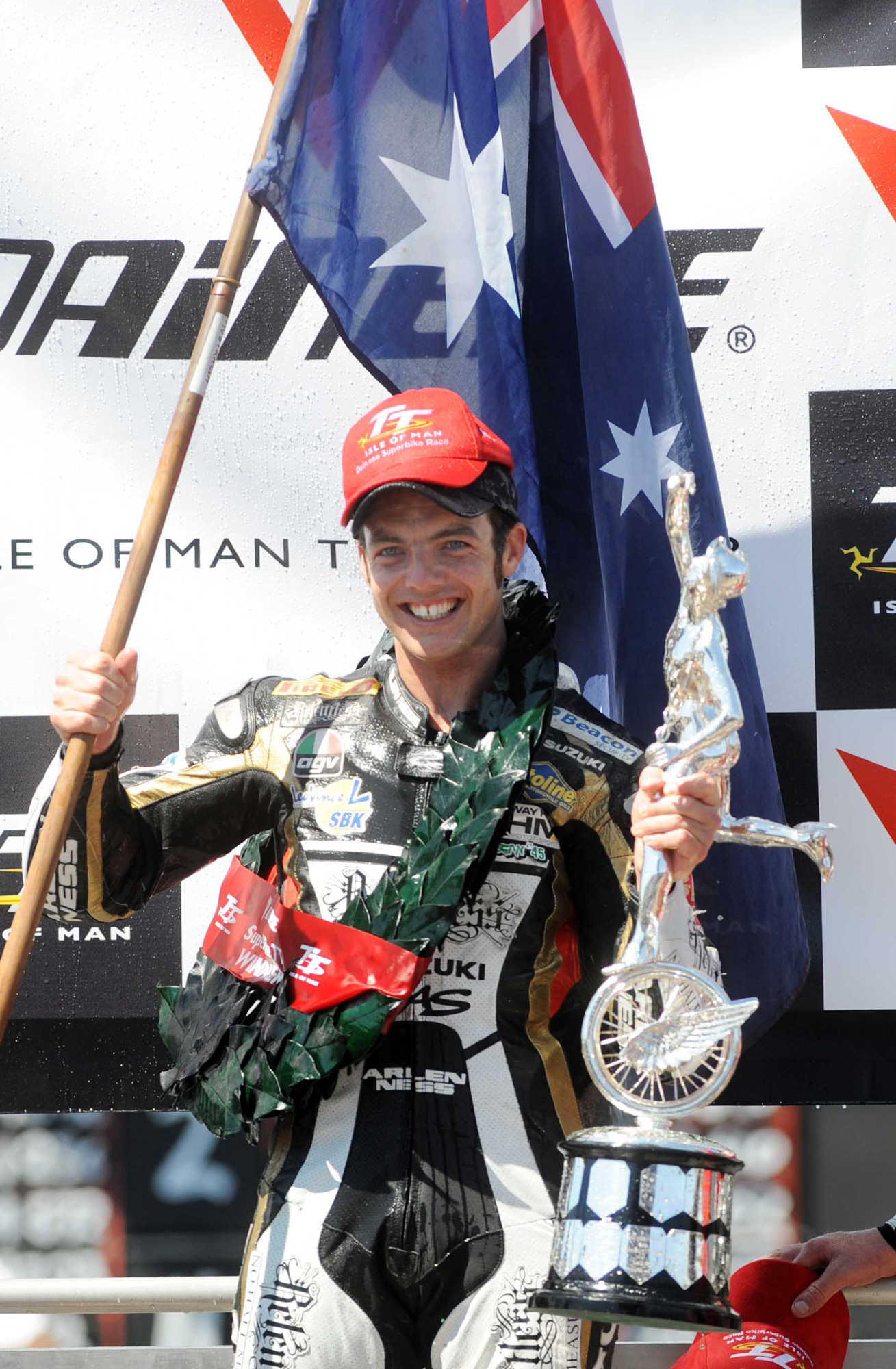 Having said that, I believe Cameron's confidence was at an all time high entering the 2008 Senior TT and another victory looked possible only for a heavy landing at the bottom of Barregarrow, which cracked the GSX-R's crank case and in reality, should actually have ended our participation in the race. 
In an unbelievable display of determination, Cameron nursed the bike home to finish runner-up. One of my lasting memories from the TT is eventual race winner John McGuiness looking down at Cam's oil soaked boot and saying, 'rather you than me!'  
It was a shame the Ulster Grand Prix was rained off that year as further success was definitely on the cards. An even greater disappointment for Cameron to suffer was a significant career disrupting shoulder injury during practise at the 2009 TT. Ironically it came after becoming the first rider to break the 131mph barrier [131.457mph] in Thursday's Superbike practise session. I'm not sure if many people realise how difficult that shoulder injury was to recovery from. I witnessed the pain and effort required to even ride the bike again and I firmly believe without that set back, we would have witnessed many more TT victories from Cameron Donald.